WORKSHOP PARTICIPANTS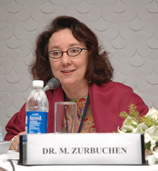 MARY ZURBUCHEN
Director, Asia and Russia Programs
Ford Foundation International Fellowships Program
New York
South/Southeast Asia Workshop
Mary S. Zurbuchens research interests include Southeast Asian humanities, the study of historical memory, and social justice in international education. She is the author of The Language of Balinese Shadow Theater (Princeton 1987), and her edited works include Beginning to Remember: The Past in the Indonesian Present (Washington/Singapore 2005), as well as Origins, Journeys and Returns: Social Justice in International Higher Education (Social Science Research Council 2009).
Dr. Zurbuchen has long worked in philanthropy, serving as the Ford Foundations Representative based in Jakarta from 1992-2000, overseeing grant programs and field offices in Southeast Asia. Her work with Ford Foundation included assignments as Program Officer for Culture in Indonesia (1984-87) and India (1988-91). In 2003 she became Director for Asia and Russia with the Ford Foundation International Fellowships Program, with headquarters in New York.
From 2000-2003, Dr. Zurbuchen was appointed Visiting Professor at the International Institute, University of California, Los Angeles, and also served as Acting Director of UCLAs Center for Southeast Asian Studies. She received the Ph.D. in Linguistics and M.A. in Southeast Asian Studies from the University of Michigan, Ann Arbor, and the B.A. (Honors in Literature) from the University of California, Santa Cruz.