WORKSHOP PARTICIPANTS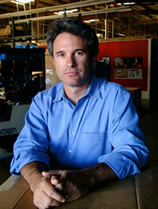 THOMAS TIGHE
CEO, Direct Relief International
Santa Barbara, California
Planning Workshop
Networking Workshop
Latin America and the Caribbean Workshop
Africa and the Middle East Workshop
Thomas Tighe has served as President and CEO of Direct Relief International, a nonprofit humanitarian medical organization, since October 2000. Direct Relief, established in Santa Barbara in 1948 and funded entirely with private support, provides medical material assistance to locally run health programs around the world and in the U.S., and has furnished nearly $800 million of medicines equipment and supplies to support health services for low-income people in 60 countries and all 50 U.S. states since Tighe's arrival. Direct Relief has been named one of America's Best 100 Charities by Worth magazine and rated by Forbes magazine as one of only eight U.S. charities that is 100% efficient.
From 1995-2000, Tighe served as Chief of Staff and Chief Operating Officer of the Peace Corps, overseeing day-to-day operations of the agency's worldwide programs and a resurgent growth of the agency to a 27-year high. From 1993-1995, Tighe served as Associate General Counsel of the Peace Corps, negotiating bilateral agreements to initiate Peace Corps programs in South Africa and China. From 1989-1993, he served as Associate Counsel on the U.S. Senate Committee on Veterans' Affairs, conducting oversight and developing legislation related to veterans' mental-health care, special disability programs, drug and alcohol treatment, and services for homeless veterans. Tighe also handled collateral duties related to foreign aid and the Peace Corps.
A 1982 graduate of the University of California, Berkeley, Tighe received a J.D. in 1985 from the University of California, Hastings College of Law and an Honorary Doctorate of Laws from Hobart and William Smith Colleges in May 2003. He served as a Peace Corps Volunteer teacher in rural Thailand from 1986-1988. He was admitted to the Aspen Institute's 2003 class of Henry Crown Fellows, a member of the Pacific Council on International Policy, and is a former member of the Board of Directors of InterAction.