WORKSHOP PARTICIPANTS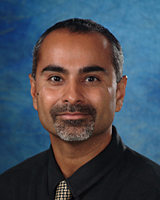 SANJEEV KHAGRAM
Associate Professor, Public Affairs and International Studies
Evans School of Public Affairs
University of Washington
Networking Workshop
Sanjeev Khagram holds a joint faculty appointment with the Evans School and Jackson School of International Studies. He serves as the director of the Marc Lindenberg Center for Humanitarian Action, International Development, and Global Citizenship at the Evans School.

Khagram previously held faculty positions at Stanford University's Institute for International Studies, and Harvard University's JFK School of Government.

He is the author of many publications, including: Restructuring World Politics (University of Minnesota Press), Dams and Development (Cornell University Press and Oxford University Press, India), "Inequality and Corruption" in the American Journal of Sociology, "Future Architectures of Global Governance: A Transnational Perspective/ Prospective" in the Global Governance journal, and "Environment and Security" in the Annual Review of Environment and Resources.

From 2003-05 he was acting dean of the Desmond Tutu Peace Centre, and from 1998-00 he was a senior policy advisor with the World Commission on Dams.

He has also worked extensively with global action networks, multilateral agencies, governments, corporations, civil society organizations, professional associations, and universities all over the world with extended periods in: Brazil, India, Mexico, Nigeria, South Africa, Thailand, and the United Kingdom.

Born a refugee of Idi Amin's Uganda, he is of Asian Indian heritage and currently resides with his family in Seattle.

Khagram holds a Ph.D. in political science from Standford University. He also holds a MA of economics from Stanford's Food Research Institute, and BA in development studies/engineering, also from Stanford.