WORKSHOP PARTICIPANTS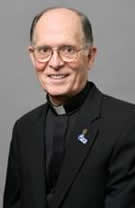 WILLIAM HEADLEY
Dean, Joan B. Kroc School of Peace Studies
University of San Diego
Planning Workshop
Networking Workshop
Latin America and the Caribbean Workshop
South/Southeast Asia Workshop
Africa and the Middle East Workshop
William R. Headley, CSSp, PhD, is a sociologist, counselor and Catholic priest. He has a broad background in Church leadership, justice, peace and international aid with experience in over 70 countries. Bill was the Major Superior (1979-85) of the USA-Eastern Province of his Holy Spirit (Spiritans) community. While Provincial of the Spiritans, Headley served on the Executive, Conference of Major Superiors of Men; was the first President of the Africa Faith and Justice Network/USA; and was instrumental in starting the Washington Office on Haiti. In 1986, he conducted for Jesuit Refugee Services a study of Nairobi, Kenyas refugees.
Called to Generalate administration for the Spiritans in 1987, Bill started his Community's first International Justice and Peace Office (Rome, Italy). He directed it for five years. Haunted by intra-state conflict witnessed in Africa, Fr. Headley used a sabbatical to research grassroots efforts at peacemaking in Northern Ireland, Israel/Palestine, South Africa and Haiti.
In July 1993, Professor Headley established a graduate program in Conflict Resolution and Peace Studies at Duquesne University, Pittsburgh, PA. He was named Deputy Executive Director of Policy and Strategic Issues, Catholic Relief Services, in March 2000. As part of CRS Executive Team, he helped to guide CRS relief, development, and justice/ peace programs. Early in 2003, he was appointed Counselor to CRS President with major responsibility for the Agencys peace work. As a peace builder, Bill has assisted conferences of bishops in Ghana, Nigeria, the Balkans, Sudan, Haiti and Burundi. He has a doctorate in sociology (New York University), advanced degrees in counseling and theology and has done post-doctoral work at Harvard Divinity School, George Mason Universitys Institute for Conflict Analysis and Resolution and the Gandhi Peace Institute, New Delhi. In August 2007, Bill became the founding Dean of the Joan B. Kroc School of Peace Studies at the University of San Diego, San Diego, CA. The Joan B. Kroc School of Peace Studies is reputed to be the only academic School of Peace in the USA. In 2009, Bill received an Honorary Doctorate in Ministry from the Catholic Theological Union in Chicago, Illinois, and in 2010, Bill received an Honorary Doctorate of Humane Letters from St. Martin's University in Lacey, Washington.