WORKSHOP PARTICIPANTS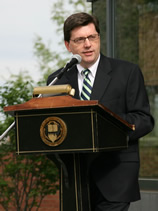 MARK D. GEARAN
President
Hobart and William Smith Colleges
Planning Workshop
President Gearans appointment to Hobart and William Smith in 1999 made him one of the nations youngest college presidents. In the course of his tenure, he has reinforced the Colleges commitment to global understanding and study abroad opportunities, community service and service-learning, with the goal of providing these elements through contemporary facilities and state-of-the-art technology.
When named president, Gearan was serving as director of the Peace Corps in Washington, D.C., a post he assumed in 1995. Under his leadership, the Peace Corps experienced a resurgence of interest.
Prior to his Peace Corps directorship, President Gearan served at the White House as Assistant to the President and Director of Communications, as well as Deputy Chief of Staff during the Clinton administration. During the 1992 presidential campaign, he was Al Gores campaign manager, and the Deputy Director of President-elect Clintons transition team.
President Gearan serves on the Board of the Corporation for National and Community Service, he is Vice-Chair of the Annapolis Group and is on the Board of Directors of the National Association of Independent Colleges and Universities.
A native of Gardner, Mass., President Gearan earned his B.A. in government cum laude at Harvard University and his law degree at Georgetown University. He is also the recipient of 12 honorary degrees.