WORKSHOP PARTICIPANTS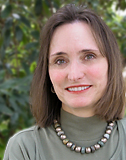 VIRGINIA GARRARD BURNETT
Professor, Department of Religious Studies
University of Texas, Austin
Latin America and the Caribbean Workshop
Virginia Garrard-Burnett received her Ph.D in History from Tulane University and has been on the faculty at the University of Texas since 1990. She is author of Terror in the Land of the Holy Spirit: Guatemala Under General Efran Ros Montt, 1982-1983 (Oxford, forthcoming 2009); Viviendo en La Nueva Jerusalem (Guatemala: Editorial Piedra Santa, 2009), Protestantism in Guatemala: Living in the New Jerusalem (University of Texas Press, 1998).
She has also edited On Earth as it is in Heaven: Religion and Society in Latin America (Scholarly Resources, 2000) and co-edited with David Stoll, Rethinking Protestantism in Latin America (Temple, 1993). Currently, she and Paul Freston are co-editing the Cambridge History of Religion in Latin America, which is due for publication in 2011.
Research Interests

Her research interests include religious movements and ethnic identity in Latin America, with a particular interest in Central America.